29 Jul 2016
Know about Pharmaceutical Packaging Machine: Blister Packaging Machine
Accupack's is the manufacturer of blister packaging machine and is a fast emerging business group manufacturing solutions for pharmaceutical industries around the globe.
The blister packaging machine is of superb quality and high reliable. It is cost effective and has great. All these factors make the machine a perfect option for pharmaceutical businesses of any size.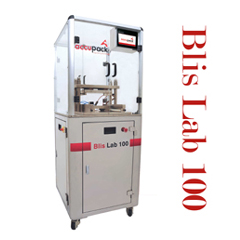 BLIS LAB 100 is a LAB model Blister machine which is perfect for Thermo forming and cold forming and is extensively used for packing of Cosmetics, Capsules, Vials, Syringes, Ampoules, Confectionaries and Tablets.
The most distinct features of this product are:
It is compact Lab Model Machine which has a PLC with touch screen control.
The machine can be mobile and has print registration.
It has full stainless steel shield according to the GMP standards.
Deep groove forming is possible with Blister Machine