17 Aug 2016
The Worldwide Oleoresin Paprika Demand Is Increasing
Oleoresin Paprika is used as a food coloring agent by people. It offers deep red color to the food. It is a natural food coloring product derived from the lipids, or plant fats and pigments of sweet red peppers. Oleoresin paprika is a widely accepted food colorant, which is often used in the production of seasoning, sausage, and snack foods. As paprika itself contains a softer reddisher-orange natural color, it is this with the combo of the red pepper, Capsicum annuum L extract, which offers oleoresin paprika enough capability to color foods a deep red.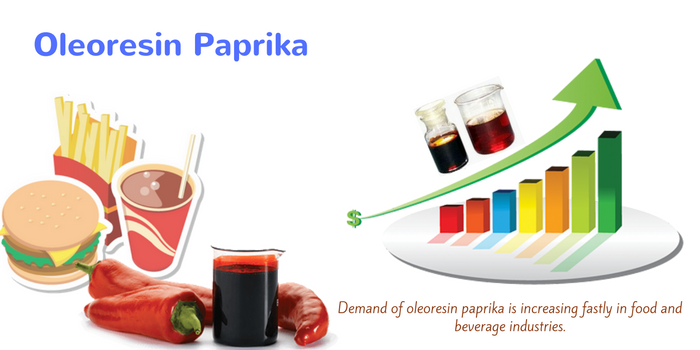 It is a natural dye product that is prepared in a variety of mixtures that offer it a vast range of color shade powers. Food colorant has short shelf life, and people can store oleoresin paprika for up to 18 months safely. His food coloring agent doesn't lose its natural dying ability soon like other food coloring agents. If you want to test the purity of the oleoresin paprika, you can perform a test at home. You can add 2ml of sulfuric acid to a 0.5 gram sample. If the product is pure, its orange-red color will turn into blue.
People are using this natural coloring agent to color cheese, orange juice, meats, spices, and sauces.
How manufacturers prepare oleoresin paprika?
Manufacturers harvest the peppers and dry them completely. They left the dried peppers as whole, cut into pieces, or in grounded powdered form. Later, they percolate a solvent through them. This solvent can be any one or a combination of the listed-
Acetone
Ethylene dichloride
Ethyl alcohol
Isopropyl alcohol
Hexane
Methyl alcohol
Methylene chloride
Trichloroethylene
Manufacturers remove the solvent after processing and this is how they left with oleoresin paprika. It is not possible for them to remove 100% of the solvent. The major components of paprika oleoresin are the capsanthin, xanthophylls, and capsorubin.
The market of oleoresins is segmented by product into paprika, chili peppers, etc. Paprika is significantly having end-users from food production and drug sectors. The food and drink sector has taken over the oleoresins market, and accounted a major share in the global market. The reason behind this growth is the use and demand of paprika and pepper oleoresins in dairy and drinks. These products are used in the making of cheese, soups, orange juices, spice mixtures, sweets, etc.
Apart from this, some poultry farmers are also using oleoresin paprika in the feed to give the yolks in chicken eggs a darker yellow color in natural way.
International market of paprika is expected to have immense growth since the demand has been increased. More food industries are now having requirement for specialized products and they are now seeking for best natural food coloring options because the consumers have started taking their health seriously.
One can source oleoresin paprika from reputed manufacturers and exporters.
Worldwide market of oleoresin paprika
Today, the demand of oleoresin paprika is increasing quickly in food and beverage industries. Increasing customer attention towards health advantages of paprika over conventional raw spices and herbs is further anticipated to drive the market over the estimated period. Requirement for specialised items has been improving on account of increasing customer choice towards health benefit items in addition to color and flavor qualities, which is anticipated to open several development possibilities for paprika market over the prediction period. Improving demand for color food items is one of the key driving factors for the market. Requirement for paprika is also improving due to its special coloring qualities which is due to carotenoid pigmentation content, which add major health advantages in wide variety of foodstuffs.
The international oleoresin industry requirement was 14.4 kilo tons in 2014 and is anticipated to achieve 20.3 kilo tons by 2022, increasing at a CAGR of 4.4% from 2015 to 2022. Paprika appeared as the top product section and included 36.7% of total market quantity in 2014. Turmeric extract is supposed to observe the quickest growth of 4.7% over the prediction period. Recent developments by drug sectors to use turmeric extract oleoresin peace and depression among people is predicted to drive this section over the prediction period. Flavors was the top application section and included 37.1% of total market volume in 2014. Development of flavors industry in high growth marketplaces of united states and Asia Pacific is predicted to drive this segment over the prediction period. Asia Pacific is expected to observe the biggest growth of 4.9% over the prediction period. Improving urbanization along with growing health attention particularly in growing marketplaces of Indian and Chinese suppliers is to drive the local market over the prediction period.