01 Aug 2016
Know about Dry Powder Inhaler for Asthma and C.O.P.D
AptarGroup's is into manufacturing of biotechnology, healthcare and pharmaceutical companies with innovative drug delivery solutions. One such product is Dry Powder Inhaler.
Under the Dry Powder Inhaler come two products namely Prohaler® and Twister®.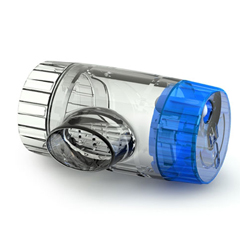 The Twister® is a versatile, affordable dry powder inhaler. It is simple, spontaneous, easy to clean inhaler with the range between 5-30mg. It is designed for size 3 capsule.
It has functions of HPMC and Gelatin capsule material. It is used for Asthma and COPD. It has Capsule opening technology with 2 capsule parts inside.
It has a transparency of the dispersion chamber and the C.O.P.D is distinguished by limited airflow into and out of the lungs.